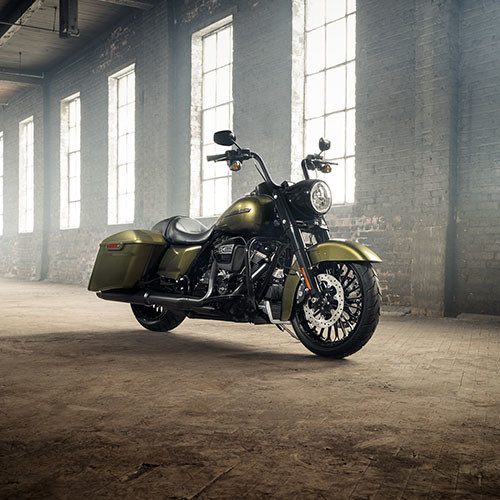 There's riding a motorcycle, and then there's riding a motorcycle with power and style. The Harley-Davidson® Road King Special offers gut-punching acceleration and a terrifying top speed, not to mention looks that will stop passersby dead in their tracks. This is the bike you've been waiting for, and now it's waiting for you to come take a test ride.
American Harley-Davidson® was named the top Harley-Davidson® dealership in the state of New York for the year 2016. Our team is highly knowledgeable about Harley-Davidson® motorcycles because we're so passionate about them. Stop by our Buffalo, New York Harley-Davidson® dealership if you want to feel like the king of the road!
Behold the Power of the King!
Harley-Davidson® motorcycles have always had a reputation for having big, fast, loud engines. With 107 cubic inches of cylinder displacement, the all-new Milwaukee-Eight® motor has a raw power that might catch you off guard. Thanks to an eight-valve engine head design and a new exhaust system, the bike has 10% more power and torque than previous iterations. The engineers then paired it with a 6-Speed Cruise Drive® Transmission to ensure quick shifts and rocket-launch acceleration when you need it.
The suspension was redesigned to use Showa® Dual Bending valve technology for ultimate performance. Up front, the bike has a big, powerful front fork, while in the back, the rear emulsion shock can be dialed up or down for a tighter or springier ride.
Unforgettable Styling
Nothing beats flying past all the cars on the road as you tear down the highway, but pulling up in front of a restaurant or shop with the best-looking bike on the block has its own appeal. For the Road King Special, designers went back to the drawing board to strip down unnecessary parts, slim down what was left, and make the slickest, meanest bike around. Instead of chrome, the designers turned to black finishes to give a dark edge. The bike has paint-matched saddlebags and wrapped fenders, which come in four colors: Vivid Black, Charcoal Denim, Olive Gold, and Hot Rod Red Flake Hard Candy Custom. The big front shocks add formidable bulk to the front, while the seven-inch Daymaker Projector LED headlight blasts away the darkness. The saddlebags feature a slick one-touch design that allows easy access without having to mess with knobs, latches, or keys.
Comfortable Riding
This massive country is perfect for long rides on open road. Unfortunately, that's not true of most motorcycles. Bad vibration, poor riding posture, and hard, uncomfortable seats make for uncomfortable trips. The Road King Special, on the other hand, is equipped with a number of features that make touring more comfortable and more fun. Mini-ape hanger handlebars help the rider maintain an upright posture that's easy on the back. The low-profile seat is small, but comfortable on trips of any length. Full-size footboards make for a sturdy base when you need to dig into corners, and the adjustable suspension allows for personalization to any rider.
Ride Your New Harley Today
The Road King Special is available for test rides today, so why not take one for a spin? With all the power you expect from Harley-Davidson®, plus design that's as fresh and compelling as anything on the market, now is the time to check one out. American Harley-Davidson® in North Tonawanda, New York offers a broad selection of new and pre-owned Harley-Davidson®s like the Road King Special. Our dealership was named the top Harley-Davidson® dealership in the state thanks to our commitment to customer service and amazing selection. If you live in Buffalo, Lockport, Niagara Falls, Batavia, or Rochester, New York, we're the best choice. Stop by our dealership today!